Mar
19
Father and Son Shape Lesson!
March 19, 2015
1 Comment(s)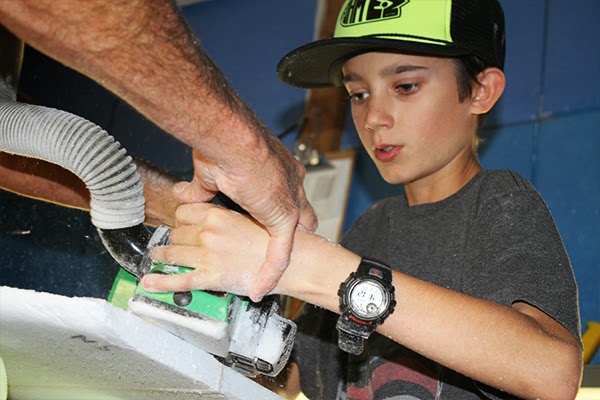 Brad Nadell of Foam E-Z in Westminster, California has long supplied Orange County's finest shapers and shapers-to-be with everything needed to build a surfboard. A few years ago Nadell built a shaping bay that would allow first-time shapers the chance to build a surfboard without the investment in tools, space, and perhaps most importantly, under the guidance of a professional.
Recently, Brad's childhood friend approached him with the idea of building a board with his 12 year old son. Brad called in world class board builder, Chas Wickwire, to guide the process. Here's what transpired.
CHAS WICKWIRE
"My goal is to just provide an overall view of the shaping process. I put a heavy emphasis on 2 of the main
building blocks: comfort with the power planer and the geometry building a rail. I make it as systematic as possible so if the first-time shaper decides to attempt a 2nd board, they'll have the fundamentals. The whole process takes about 4 hours and nobody is going to leave as an expert shaper, but we'll certainly help you avoid a few botched surfboards."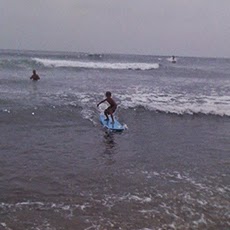 JAY CAMERON
"Vance is 12 and he's been surfing since he was 6. I have a photo of him on his very first wave at San Onofre and to this day he has the same exact style, arm placement, and everything. Surfing's been a great bond to share and we surf the same spots that I surfed when I was 12. Vance was ready for a new board and I thought that shaping would be a very cool extension of that experience."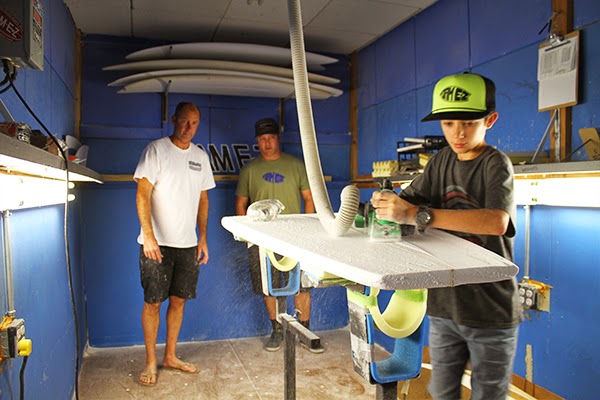 VANCE CAMERON
"I just wanted to shape a board that I could ride every day, when the waves are a little smaller and it's harder to surf my normal shortboard. After talking with Chas we decided to make a 5'10". It's pretty thick. Chas suggested we make it a little wider in the noses it paddles easier. And we made it quad."
CHAS WICKWIRE
"I've surfed Seal Beach my whole life so I'm very familiar with the waves that Vance surfs and the goal he's trying to achieve with this board. We designed this shape with a low entry rocker so it gets into waves really easily, goes fast and is easy to ride when the waves are less than ideal." "We used the 6'2" A which is a real versatile blank to shape a 5'10" x 21" x 2 3/8"."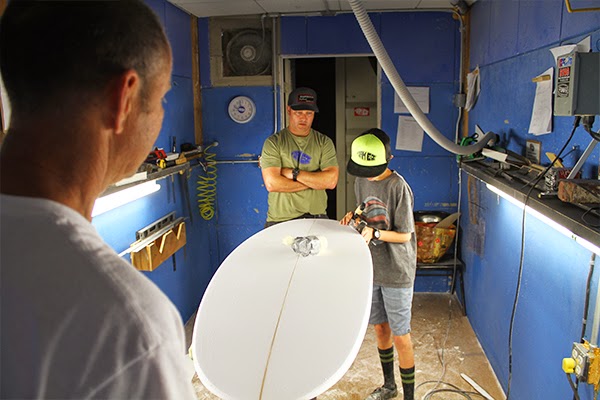 VANCE CAMERON
"I thought it'd be more fun to shape a board than just go buy one, but I was really surprise how much math is involved. Not just in the fractions with the length and wide, but there's a lot of geometry. I thought it was going to be more like an art project, but Chas used a lot more math than I expected."
CHAS WICKWIRE
"Vance was epic. For his age, he had great intuition. If he decided to pursue it, he'd succeed for sure. He looked really comfortable with the tools and allowed the planer to rest properly." "We've made a lot of great friends in this room and we're really grateful for share this process with anyone who is interested to learn. I'd encourage anyone to come on out and give it try. "
Thanks to David Scales of US Blanks for coming out and doing the story.