Oct
17
Robb Dogg Photo Guy!
October 17, 2012
1 Comment(s)
In the HB area we are lucky to have so many great surf photographers and surfers. Therefore we thought it made sense to highlight some of the local surf photographers on our Foam E-Z slider. The first featured photographer is Robb Dogg Wilson and here is the interview I did with him: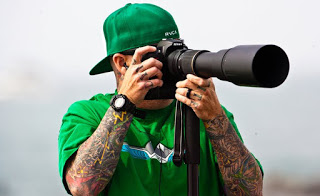 Pic by Tom Cozad
Name: Robb Wilson
Hometown: Long Beach, Ca.
Nick name: Robb Dogg, Robbie D, Melator, Bald Walrus(Inside joke) or hey white boy! Depends on what neighborhood I'm in haha.
Do you surf: Hell yeah, I started when I was around ten. I grew up surfing with all the boys. You (Brad), Chad Wells, Ryan Simmons, Rob Colby, Tim Stamps, Benny Bigler and all kinds of other great surfers. Surfing's consumed my whole life for around 30 years now. Always has, always will.
How old were you when you got your first tattoo: Like 13 or 14, a friend of mine did it on me at school with india ink a sewing needle and some thread. It was real small, but my mom was pissed!
Position: Bad ass Father and husband.., Co-Editor/Photographer @ Aladdin Surf Magazine, check it, it's the shit!! http://www.aladdinsurfmag.com/ and Staff Photographer(sometimes) for the American Pro Surfing Series, APSS.
Favorite place to shoot: Anyplace there's water…
Favorite Quotes: "Why shoot for the sky when there's foot prints on the moon". Not sure who originally said that but I love it.
"Live like a groom" My buddy Eric Reno always says that.
Inspiration: Positive people, people that have overcome adversity such as Ron Dog Ziebell, Jesse Billlauer, or Bethany Hamilton for example. Also, my wife and son inspire me a ton.
Favorite Music: I listen to all kinds of stuff, but mainly Reggae, island music, old school and underground hip hop and some hard ass Gangster shit. My favorite lyricist straight up is "Brad Daddy X" front man for the KottonMouth Kings. Dude is the realist, illist and the most conscious. My boy Dub Pasenjah is an amazing Reggae artist, check him out when ya get a minute. Run DMC, Ice Cube, Wyclef, Daz and Kurupt from the Dogg Pound, Cypress Hill, Guru from Gang Starr, The Pricks, Everlast, Mike Ness, Barrington Levi, O-Shen, IZ Kamakawiwo, Pato Banton, Slick Rick, Dj Quik, Elvis Presley, The Stray Cats, Sublime, The Dirty Heads, Fats Domino, Peter Tosh, Bob Marley, Mad Child (front man for the Swollen Members), Snoop, Warren G, Nate Dogg, Eminem, Dr Dre, Tupac, Too Short, Notorious B.I.G, Bone Thugs & Harmony, Kid Rock, The Talking Heads, The Long Beach Liberators, the list goes on and on. I couldn't live without music.
Publications: Surfing Magazine, Surfer Magazine.com, Aladdin Surfing Magazine, Eastern Surfing Magazine, Surfline, Bliss Magazine, HB Culture Magazine, OC.com Magazine as well as various different P.O.P's, for companies such as Rip Curl Wetsuits and Grom Bomb energy drink, Lira clothing, Kanvas by Katin, Katin USA, American Professional Surfing Series event websites, Hoffman Surfboards, McCrystal and Ricochet Surfboards.
Favorite Surfers: My Wife, my son, my buddies Adam Newsom, Josh Beard and Lil Joe Raymond. Tom Curren, Occy, Dane Kealoha, Archy, Dave Rastovich, Alex Grey, Gavin Beschen, Dane Reynolds, Kelly Slater, Jordy Smith, Jon Jon, Tom Carroll, Jaime O'Bryan, Pat and Tanner Gudauskus, Ryan Carlson, , Noah Wegrich, Chris Ward, Mike and Derrick Ho, Sea Bass, Shane Dorian, Mark Healy, Reef Macintosh, Mark Mathews, Koby Abberton, once again the list goes on and on.
Logan Banks
Equipment: Camera- Mostly Nikon. Water Housings-Kobetich and a few other misc items to help out along the way…
What else do you do: I own a snowboard tune/repair shop called MAD WAX in Colorado. I've owned that for about thirteen years now. I Surf, snowboard, skate a lil bit, listen to tons of music, hustle people at pool haha and hang out with my wife and son a lot.
Outlook on life: (In a nutshell) Be a giver. Treat people how you want to be treated. Keep it real, be positive and respectful and you should receive the same in return. Appreciate the things you have, don't trip on what you don't have. Have as much healthy fun as possible, life is short. Don't hate, congratulate. Love yourself, believe in yourself, be true to yourself and always stand up for yourself.
Who's been instrumental in your success as a photographer: Without a doubt, Joe Foster has showed me so much love and has really been a great mentor to me. He's given me a lot of opportunities and has really taught me a bunch. Dale Kobetich has also helped me tons by making me incredible water housings and teaching me all kinds of amazing stuff. My buddy Rick Rogers, who introduced me to Foster and was showing him my photos before he introduced us. My friend and Rip Curl Team Manager, Matt Myers for all the love and opportunities he's given me with Rip Curl and other great people he's hooked me up with to shoot. Jimmy Wilson at Surfing Magazine and Nate Adams at Eastern Surfing Magazine. The boys at Surfline, especially Billy Watts. Also all the boys in Huntington who let me shoot them when I was just getting started. Quinn McCrystal, Spencer Mauro, Kyle McGeary, Matt McMullen, Steve Fawley, Teddy Navarro, Ryan Carlson, Chris Waring, Billy Hopkins, Christian Saenz, Matt Taylor, Eric"Brada"Reno, Ryan Rustan, Duane Toole, Bryan Van Arsdale, Erik Tomlinson, and Taylor Fitzpatrick. I also wanna say thanks to my buddy Benny Bigler, the Lost rep, and Jason Hoffman from Hoffman surfboards.
Favorite Photographers: Dave"Nellie"Nelson, he's the shit, straight up! Larry "Flame" Moore, Aaron Chang, Joe Foster, Jeff Flindt, Daniel Russo, Zack Noyle, Lucano Hinkle, Ryan "Chachi" Craig, Eric Baesman, Russ Hennings, Old School Mike Moir, Dale Kobetich, Scott Aichner, Todd Glasser, Shawn Parkin, Matt Kurvin, Tom Cary and Corey Wilson are pretty freakin nuts. There's a lot of amazing guys out there, it's impossible to name them all.
Where can we see some of your stuff: I have a little slideshow set up, just click on the link to check it. http://www.flickr.com/photos/38149593@N02/show/
Thanks everybody who believed in me and gave me a chance and Thanks so much to Brad and the Foam-EZ crew for the love. Cheers!