Nov
29
The E-Z SHAPING PAD, The Most Versatile and Efficient Surfboard Shaping Tool Available!
November 29, 2011
1 Comment(s)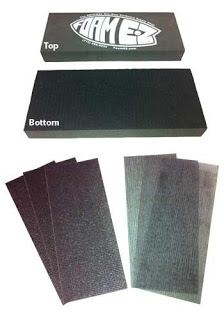 We are very excited to announce that after many months of testing, it's finally available! The E-Z Shaping Pad is the most versatile and efficient shaping pad on the market. The medium density foam is extremely light, flexible, and comfortable to use. The pad increases accuracy and consistency while saving time and energy in the shape room. The E-Z Shaping Pad is so versatile that you can use just this pad to do most of the shaping steps on a board. These pads have been thoroughly tested by a number of professional shapers over the past year.
The E-Z Shaping Pad can be used to shape decks (convex), bottoms (concaves), and flats with some e-z manipulation of the pad. The abrasives we've chosen are unbelievable at cutting foam at a consistent rate, the aerated mesh keeps the abrasive from clogging up, and the durability is un-paralleled. The E-Z Abrasives come in two styles; HD = Heavy Duty and LD = Light Duty. These abrasives work incredible with both Polyurethane and EPS Foam. The hook/loop backing allows for quick abrasive changes. Check out this video to see how e-z the pad is to use:
The E-Z Shaping Pad Combo comes with the E-Z Shaping Pad and your choice of TWO (2) E-Z Abrasives. By purchasing the E-Z Shape Pad Combo you get one (1) Abrasive FREE, a $5.00 value.
The E-Z Shaping Pad is so simple, yet effective, that we're sure it will become your "go to" tool in the bay.