Dec
30
A Foam E-Z Year In Review
December 30, 2016
0 Comment(s)
New Year, New Me. The classic phrase that if oft repeated at the end of each year by countless people looking to one way or another improve themselves. Whether or not you choose to actually stick to your resolutions however, we think that it's important to spend a little time reflecting back on everything you've accomplished in the past year and how you've grown. At risk of all humility going out the window here, we've had a pretty awesome year. From interviews with industry legends and collaborative projects, to explorations of board building theories and techniques. We have had a hell of time bringing you original and exclusive blogs this past year. Just wanted to take a second to review and highlight some (but certainly not all!) of our favorite posts from this year. We hope you enjoyed our blog this year and we can guarantee that there will be plenty more where that came from in 2017. Until then enjoy the coupon you'll find here for a discount off of your next online order with us!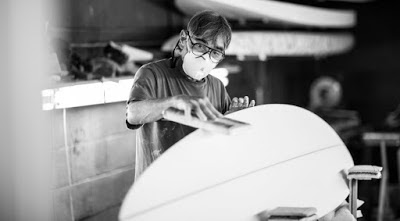 One of our first features of 2016, this is exclusive interview with one of the progenitors of what we think of when we talk about high performance surfing, Gerry Lopez, highlights his influence on the shaping world. Before Gerry was to be honored at the 2015 Boardroom Show in the Icons Of Foam Challenge, we were able to talk with Gerry about his theories on board design, and the past, present, and future state of surfing. Give it a read here.
–
In one of our most popular posts of this year, we were able to talk with some of the industries most cutting edge shapers about how they set up their own shape rooms. Loaded with great insights from Tim Stamps, Rusty Preisendorfer, Ryan Lovelace, Rich Harbour, Jeff 'Doc' Lausch, Gerry Lopez, Josh Martin, Todd Proctor, and Matt Parker, we were able to take a rare look behind the doors where dreams are made. Check it out here.
–
Forrest Minchinton has had one hell of a busy year. He's spent 2016 traveling the world with the boys at Deus Ex Machina surfing, shaping, riding motorcycles, and even making a few appearances in some movies. If a true adventure spirit is what you're after, this is the article for you, read it here.
–
Earlier this year we did a Facebook Live three-part series with Grind TV in our shape room. In it we covered shaping a board start to finish with Chas Wickwire (of Chas Surfboards) followed by a board coloring demo, the colors chosen by the live viewers! Filled with plenty of FAQ and technique breakdowns, this is a great refresher for any aspiring shaper or glasser to refer to. Give them a watch here.
–

Surfing is sport that is constantly under the influence of trends and crazes that shape the collective consciousness of our industry. While some leave a great and lasting mark and others fade into obscurity, other trends are little more murky and complicated. Surfboard volume is one such trend lately that falls into the latter category. In this "think" piece, we talk about the benefits and pitfalls of surfboard volume as a measurement, and how you can use that number to make a more informed decisions as a shaper and as a surfer. Check it out here.
–
Speaking of ever changing surf trends… this article on the generational gaps that tend to separate shapers and surfers, explores how technology and the internet can be used to improve the future of surfing. Give it a read here.
–
We believe that in the surfing world, the D.I.Y. spirit is a true virtue. Our good friend Shane Jones of Jonesea Wetsuits understands and embodies this as well as anyone we could think of. Therefore we recruited him to make a custom summer jacket earlier this summer and we took some time to pick his brain about finding your own path. Read it here.
–
Closing out our list of top blogs of 2016, we wanted to leave you with something to inspire you heading into a new year. It can be easy to get discouraged or overwhelmed at times when it comes to building surfboards, especially if you're new at it. What you'll find in this blog is some very simple and helpful advice from a man who's been shaping for a lot longer than most to help you push through and keep shaping! Check it out here.
Happy New Year…see you in 2017!