Feb
23
The Art of the Perfect Stringer Curl
February 23, 2015
0 Comment(s)
Is there anything more gratifying? When thumbing through Instagram, if you
happen upon a perfect stringer curl, it's a guaranteed double-tap. It's
a bravo to the shaper who kept his blades sharp, maintained a steady hand, and
lucked into some straight grain.
We asked a few stringer curl connoisseurs what's required to achieve Rapunzel-status.
Firstly, a word from the kingpin of color-dyed plywood:
Bradley Appelcore: Super straight
grain (vertical grain) material, whether from Bass, Cedar, or Redwood performs
best. The straighter the grain without
interference from diverging branch grain are guaranteed perfect curlers! It can be from fast growth (wide grain) or
old growth (tight grain) as long as it is arrow-straight. It's easy to notice on Cedar and Redwood, but much
more difficult to spot on the Bass.
Sharp tools are key, low angle, and a steady, even push, keeping
your palm out of the way from inhibiting the emerging curl. There isn't
much you can do if the stringer is from solid wood and has divergent grain
(grain rising away from the blank or grain diving into the blank) even with the
sharpest of tools.
Essential Tools
Tim Stamps: The best tool
to get the curl is the block plane. This
curl came from the blade from my Lie-Nielson standard angle block plane. This block plane was a gift to me several
years ago from Rich Harbour. He's a tool fanatic!
Josh Martin: My vintage Stanley model 60 1/2 block plane is the
best tool to get the perfect curl. I
hand grind the iron razor sharp. Also,
my Xacto mini spoke shave is the best for mini curls.
Nick Aleandro: Each wood
will work a bit differently so it of best to have a variety of planes or spoke
shaves to choose from with various bevel angles. I prefer narrow curved Japanese plane since I
can use the same tool on the deck and base no matter the rocker.
Massimiliano Purchiaroni:
The tools are very important. I
used a normal David Combi plane, a spoke shave, and a Japanese curved plane.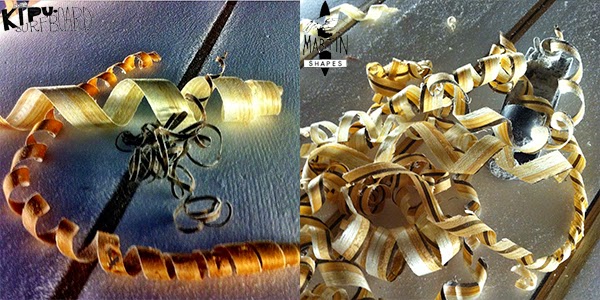 The Best Wood for the Perfect Curl
Josh Martin: Premium light
Balsa is my favorite wood to get the perfect stringer curl, but it needs to be
the good stuff. The heavier it is, it
tends to get stringy and produces the worst curls. The good stuff produces the most golden and
perfectly relaxed curls. The best part
for me is the sound produced when making them.
A light clean hissing sound that almost sings like a rubbed crystal wine
glass rim.
Wade Tokoro: Basswood with the David block plane is the best
combination.
Breno Basiliro: Powerline
Strignerz is a composite so it is even throughout the length of the board. You will not run into grains, as with wood,
which can break the flow.
Tim Stamps: From my
experience, the type of wood that most often gives the best 'spiral
curls' is Basswood. My guess is it's
the combination of the woods density, cell structure, and grain pattern.
Massimiliano Purchiaroni:
Red Cedar is my favorite for a perfect curl.
Todd Messick: Balsa is like Butter compared to the rest. Easy
Breezy!
Technique
Wade Tokoro: One long pass
with a sharp blade.
Todd Messick: The curl
comes into play based on function. I
angle my planner to create a roll or curl,
as i cut across the blade. This
technique allows the cut stringer to curl off the side instead of rolling over
on top of your pass. Form follows
function.
Nick Aleandro: Sharp tools
are the only option. At a minimum you
should be able to shave with the edge.
When sharpening I go to at least 8000 grit and use a Veritas honing
guide to make sure I get consistent results.
What ever your method, a sharp tool and slow cut work best. It is always better to do a few passes rather
than to try to cut one deep one. If you
are digging in often in one section, try approaching from the opposite side or
skewing your edge. Wood sometimes just
likes to be difficult, so don't get frustrated.
Breno Basiliro: The curl
is a reflection of how continuously you're
able to run your hands and make micro adjustments, feeling the board and
stringer as you move. Again, sharp tools
are still the most important factor.
Josh Martin: I customize
my plane irons so that they have a slight radius from corner to corner. This is done so the corners don't score the foam as much on each side of a stringer but may affect curl quality as well. Sharpness cannot be over emphasized. Holding the plane at a slight angle to the grain direction seems to produce the best curls. Don't be in a bad mood when making curls.
Tim Stamps: To get that
perfect curl takes three main things: a very sharp blade, a deep cut, and the
proper skew angle. I've shaped quite a
few boards, and these spirals and curls are always things that brighten my day
and get me stoked. Just like seeing a perfect wave peel down the beach!
Bradley Appelcore: I
actually carry a tiny cheap Stanley planer with a medium angle that's 1-3/8″
wide by 3-1/2″ long with a sharp blade loaded
slightly on the bias and it works killer.
I have to check the glue line on all production panels so it sees some
serious mileage. However, when I want
the kind curl for showing off my fancy stuff on Instagram, I use my
grandfathers two handed plane from the 50's
where I can control bias and angle with precision controls. But that one stays on my workbench.
by David Lee Scales for US Blanks