Feb
12
Surfboard Stringers, The Possibilities Are Endless!
February 12, 2014
0 Comment(s)

Stringers have been an integral part of surfboard construction since the introduction of polyurethane foam in the late Fifties. Previously, solid wood surfboards had plenty of strength, but also a lot of weight. The introduction of polyurethane foam allowed for surfboards to be much lighter, but also more fragile. Early polyurethane surfboard builders glued a long piece of wood (often redwood or balsa) in the center of polyurethane foam blanks and coined the name "stringer". The stringer added strength to the foam blank and just enough flex and recoil to increase the surfboard's maneuverability. The wood stringer has remained a vital part of surfboard construction over the past half-decade.
While a single piece of wood down the center of the blank is considered to be the traditional surfboard-stringer configuration, many successful variations have been implemented over the years. Every stringer configuration offers performance dynamics unique to a given board design. When choosing a stringer configuration, a surfer should consider three main factors: strength, performance and aesthetic.
Every wood type has a unique level of hardness and flex, which will correspond with a board's strength and stiffness (in regard to maneuverability). Further, given a specific board design, offset stringers, curved stringers, or parabolic stringers would all create a different distribution of energy than a traditional straight, centered stringer.
While stringer configuration is an important part of a board's performance dynamic, it is no more vital than foam density, rocker selection, fin placement, glassing schedule, or a myriad of other design elements. A good shaper will be able to assist the surfer in deciding which materials and designs will best suit their needs. The surfer, however, should have a frame of reference for communication with the shaper.
Below, you will find a list of the various stringer options. The stringer configuration offerings are only limited by one's imagination and we are happy to fulfill custom orders.
US BLANKS IN-HOUSE MILL
The US Blanks in-house mill allows us to offer any variation of stringer thicknesses and configuration. Some limits are set by the length or width of wood available. Their red cedar comes 6" wide and will not fit all rockers, and the poplar plywood has a length limit of 8′.
They offer 7 types of stringer material, 4 types of raw wood and 3 additional offerings. A description of each follows.
Basswood – Fine straight grain with an even texture. Creamy white in color and medium weight. Relatively soft.
Red Cedar – Straight grain with medium texture. Reddish brown and highly aromatic. Lightweight and soft with high durability.
Cedar Alternative – Sourcing consistent and reliable Cedar is increasing difficult and expensive to procure. The cedar alternative offers similar shape-ability and aesthetic as cedar.
Balsa Wood – Very soft, lightweight, yet strong, with a course, open grain and bright yellow/beige color.
4mm Unidirectional Poplar Ply – They offer three versions of Poplar Plywood; Basic, Team Ply, or High Performance Ply.
Applecore Stringers – Appelcore Stringers are comprised of three plys of 1/24th inch basswood laminated together. The lamination adds strength and consistency to the stringer. Further, Appelcore Stringers are available in a range of 6 color options (wherein, the basswood is dyed).
Powerline Stringerz – Powerline Stringerz are a wood alternative, made of a 4-ply non-woven polymer. It is lighter and stronger than wood and impervious to water. It cuts easily with hand tools and on shaping machines. It is colorless, but reflects and embodies a chosen glue color.
PVC – PVC is a wood alternative. It is a plastic, available in 3mm and 4mm, colored red or white. It offers plenty of flex, but less strength than wood.
STRINGER CONFIGURATIONS


Center Cut – A single piece of wood in the center of the blank. This is the most common and traditional stringer arrangement. Any type of wood can be used.
Multi's – 2 or more stringers in any configuration. Any type of wood can be used. Many variations of Multi-stringers have unique names, some are more widely known than others. Off-Set is a commonly used name for any number of stringers located away from the center of the blank.
Flared – Flared stringers begin in the nose or tail and curve to exit along the rail. Any distance, angle, curve or wood type can be used.
Wedge – Wedge cut indicates the wedged-shape aesthetic of the stringer cuts, but there are a number of different ways to achieve this aesthetic. Varying styles of wedge-cuts are known by nicknames and clarification is often needed when ordering.
A wedge configuration is made with 2 pieces of wood, starting close together, perhaps touching, and then separating into a "V" on the other end. Any degree of separation is acceptable.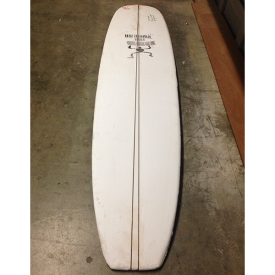 "Model A" refers to a wedge cut that begins close together in the tail and separates in the nose. "Reverse Model A" refers to a wedge cut that begins close together in the nose and separates in the tail.
Wedge cuts can also include Multi stringers, T-Bands, and any stringer material.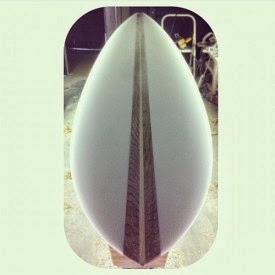 T-Band – A T-Band simply refers to 2 or more stringers that are laminated together. Any type of material or thickness is acceptable.
Parabolic – Consisting of 2 stringers, the name refers to the shape of the stringers. The two stringers are bent and follow the contour of the rail of the surfboard, one on either side. The desired function is a faster return to static post flex. With a strengthened perimeter, the surfer can apply a more controlled weight to the board's rail, thus gaining more controlled buoyancy. The added flexibility on the perimeter of the board allows the surfer to lean into the stringer as opposed to the foam. This flexes the stringer and recoils the surfer out of the turn as it flexes back which equates to more speed, acceleration and torque through each turn.
Colored Foam Inserts – US Blanks offer a variety of colored polyurethane foam and can insert wedges, halves, or straight cuts between stringers.