May
24
Stamps Shaping His fX Model To Be Raffled Off At Our Party!!!
May 24, 2013
0 Comment(s)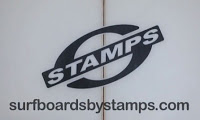 Tim Stamps
will be shaping his new
fX model
in the
Future Fins
Fish Bowl Shaping Bay
. This will give party
goers the opportunity to watch a "pro" shaper do his thing and one lucky
customer will win the board! That's
right if you are lucky enough to win this raffle you will win your own custom
StampsfX 5 Fin Convertible Surfboard
. The
board will be raffled off after Tim shapes it, around 1:30pm.
Here are the details on the fX model according
to Stamps:
fX Model
"The fX originates from my ever popular
Quantum Fish design. This design has been blended with more 'performance'
characteristics such as a more refined foil, enhanced bottom contours, and a
slight rocker adjustments. A smaller wave board with limitless speed and
unprecedented maneuverability. Ride approximately 4" – 6" shorter than your
height. The board is ideal for ankle to
chest high surf."
A little history on Tim Stamps:
Tim Stamps has been building surfboards
since the age of 15, and is known for the progressive and innovative boards he
creates for some of the most accomplished pro surfers out there, novices just
figuring out what boards work best under their feet, and everyone in between.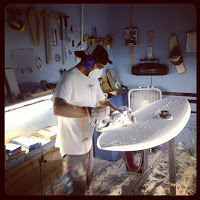 In The Shaping Bay
It was his surroundings and upbringing that
fostered his lifelong passion of surfboard building, and as a kid it didn't
take long to realize he had the shaping bug in his DNA. His desire to help,
learn, create, build and dissect surfing into physics, geometrics,
hydrodynamics and displacement theory began with two mentors. The first was his
father Johnny Stamps and the second Rich Harbour. Tim was under the tutelage of Harbour from
the years 1985 through 1997 when Tim decided it was time to venture out on his
own. The rest is history as they say.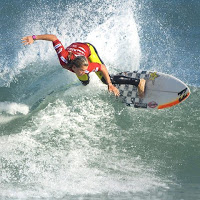 Courtney
Stamps has been shaping a lot of boards for
pros on the tour as of late. He has been
working closely with surfer's Brett Simpson, Travis Logie, and Courtney Conlogue. Keep your eyes out at the party as there is a
high probability that one of these famous surfers will be attending.
If you're in need of new board or just want
to have a deep conversation about surfboards stop by and see Tim, he's just
down the end of the street!