Feb
24
Foam E-Z fuNky FieldTrip to Harbour Surfboards
February 24, 2013
0 Comment(s)
This is the first installment in our
Foam E-Z fuNky
FieldTrips
! Last week we stopped in at
Harbour Surfboards
and visited with
Rich Harbour
, his shop has been in the same
location since 1959!!! This is an
extremely unique surfshop by today's standards in that there is a shaperoom on
the premises that Rich doddles in on a daily basis.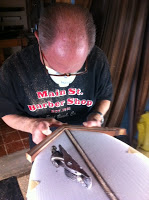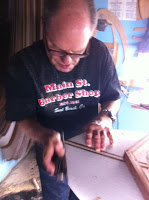 On this day we were lucky enough to stumble in on Rich
putting on a nose block. This is an
arduous task to get it right but Rich has put a few on in his fifty some odd
years of shaping. Since he makes his
noseblocks from scratch, he first has to acquire the nose block material
(walnut, balsawood, red cedar). The next
step is to re-saw the wood to the appropriate thicknesses, then glue up the wood
strips in the order desired, plane the block to square it up, miter cut the
block at the appropriate angle and finally glue it together (ideally in a jig). After all that work, the noseblock is finally
ready to be installed on the board. Now
the trick is to cut the mostly shaped blank perfect so that the noseblock fits tight
with no gaps. He grabs some five-minute
epoxy and glues the noseblock to the blank using tape to secure it. He flips the board over a number of times
making adjustments to be sure block is placed appropriately. Once the glue dries Rich busts out one of his
razor sharp hand planes and chips away at the nose block until it's roughed to
the final shape. After sanding with a
couple of grits of sandpaper the block is finished.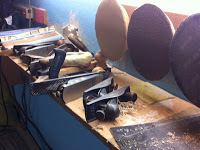 It was great to catch up with this artisan craftsman in the
midst of such a cool project. I've seen
him do this a number of times over the years but now that I'm older and more
mature I just now realized the time and tlc Rich puts into each of these nice add-ons. Thanks Rich, it's always great to catch up with you. I forgot to add that Rich is now taking up mixology on the side, creating his own Lemoncello drinks!!!
Stay tuned for our next Foam E-Z fuNky FieldTrip.