Aug
04
Manufacturing Stoke!
August 4, 2011
0 Comment(s)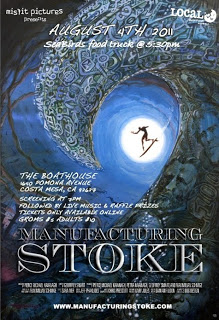 Hi all,
Clay from Marko Foam is hosting the movie Manufacturing Stoke at his "Boat House" building at 1640 Pomona Ave Costa Mesa, Ca. 92627.
Come join us Tomorrow, Thursday August 4th for the Orange County premier of Manufacturing Stoke, a movie brought to you by Misfit Pictures, highlighting the current status of surfboard manufacturing from sustainability to responsibility.
Adults are $10 a ticket and groms are $5. Proceeds help support the sustainability movement.
Come early for happy hour, Seabirds truck will pull in at 5:30.
See you there!