Dec
24
It's Beginning To Look A Lot Like…
December 24, 2010
0 Comment(s)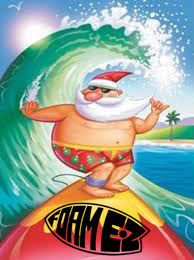 December is my favorite month of the year because it means one thing; Christmas! To me, it's all about the decorations, music, presents, oh yeah, family and friends too. Now, that time is finally here, which can be a good thing and a bad thing for some. The folks who have spent the last few months shopping and already getting their presents together are now able to relax and enjoy the holidays. While others (like me) are rushing and using every last minute to buy gifts and wrap them in time.
This past week, we've had many people come into Foam E-Z to get Board Kits, DVD's, and other board building supplies as presents for their loved ones. Though it has been crazy and stressful at times, it has been fun and rewarding as well. We have received so much candy and cookies; I think it's safe to say that we all might die before the New Year. We definitely want to thank all our customers for their amazing support and all the great holiday swag.
Have a very merry Christmas and be sure to make a toast to anything or anyone!
Enjoy the holidays-
From C-Monkey and the rest of the Foam E-Z Crew