Mar
07
Foam E-Z fuNKy FieldTrip To Stamps Surfboards
March 7, 2013
0 Comment(s)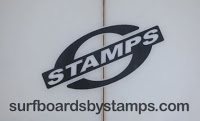 I recently took a little skateboard trip down the street to
visit Tim Stamps of "
Surfboards by Stamps
" fame. When I rolled into his shop, he was glued to
his lap top computer getting ready to watch
Brett Simpson
surf his heat in
the Burton Toyota Pro at Newcastle Australia. Knowing Tim needed some support, I pulled up a seat next to him and watched as
Brett unfortunately didn't get the waves needed to move through his third round
heat.
That's the life and relationship of
a pro surfer and a shaper to top ASP surfers. Tim has been making boards for Simpo for the
past few years. After the heat was over,
and a quick "F" bomb, it was back to work in the shaping bay. Stamps had some deadlines to fill before he
left for the Gold Coast of Australia. He
headed down under to support his other big named ASP surfer Courtney Conlogue
as she surfs in the Quiksilver Pro.
Simpo Boards
As I entered Tim's shape room we chatted about some
of the tools and the nuances of the different abrasive grits he uses. Tim has been integral in helping us develop
our line of shaping tools. He comes to
us with ideas and I go to him for feedback and testing before we launch and
tools. This way we know that what we sell
works and we can stand behind it.
Stamps' boards are made completely in house from
the shaping to the glassing. He employs
some of the best guys in the industry to do his glass jobs and uses only the
best materials. By having it all under
one roof, this insures that Tim's boards are exactly to spec before leaving his
shop. Quality control at its best!
Tim is a true craftsman, having learned his trade from one of the best
shapers around –
Rich Harbour
.
If you
haven't had a chance to ride a Stamps board, go check one out, or just tune
into any ASP contest to watch Simpo or Courtney tearing it up on one.
GlassRoom
Thanks again for having us and we are rooting for
Simpo and Courtney in the Quiky Pro!