Oct
10
The 2012 Boardroom Surfboard Show, MR Rocks!!!
October 10, 2012
0 Comment(s)
MR at the Booth
We had an awesome time this past weekend at The Boardroom Show in Del Mar. So much to see, so many cool people, lot's of story, and MR. That guy was my idol when I was a kid and I can't believe how cool of a dude he is in real life. He was so involved this past weekend in all aspects of the show. I swear he spent at least one hour watching each Icon Shaper try to recreate that board he constructed back in 1981. This was no simple task, as the board had some serious bottom contours and the deck/rails were nothing to sneeze at. Since this was the first time I got an opportunity to watch so much of this shape off I was amazed at the struggle these craftsmen were up against. The lighting sucks for shaping a board, the fish bowl effect can't be fun, the unfamiliar surroundings add to the difficulty, and trying to replicate that board in an hour and a half is almost impossible. Everyone of those guys (Taz, Reno, Pyzel, Rawson, Wayne Rich, and Ricky Carrol) was so impressive!!!
Wayne Rich and MR
Starting the shaping day off on Saturday was Taz a 15 year old kid from the Canary Islands. This young shaper is self taught by watching YouTube videos. He told me that he watched our video of Stamps shaping in The E-Z Shape Box hundreds of times. It showed as that boy can really throw the Accurate Planer around like he's been doing it for twenty years. Even though Taz didn't win the Icons of Shaping he impressed all with his incredible skills and likable personality.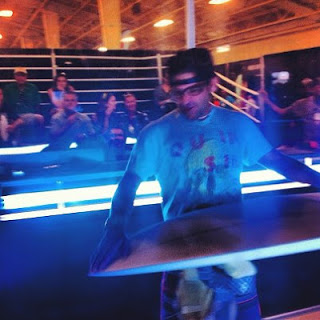 Stamps rocking in the Q&A Shaping Bay
Ricky Carroll won the Icons of Foam Shape Off for the third time!!! Carroll also won the event in 2007 and 2008. Four-time world champion MR spoke eloquently about all six shapers and singled-out Reno Abellira as a shaper/surfer who influenced his career both competitively and as a surfboard builder. "Reno showed up at the Surfabout in 1974 with a quiver of six surfboards. This was a time when we traveled to surf contests with with one board. Reno had a twin-fin Fish, similar to what Steve Lis was making. He (Abellira) was blowing us away with how fast he flew around on the waves as the rest of us labored on heavy single fins. It changed my way of thinking."
Reno grinding it out!
Another highlight for us was our involvement in the Q&A Shaping Bay. We had our Shaping Instructor Chris Carrozza spend 45 minutes with a lucky spectator from the grandstands. Chris walked Ian Cameron and the rest of the audience through the finish steps of shaping a board. On top of it all Ian got to walk away with the finished blank! Not bad for FREE! Check out the video of the lesson in the Q&A Shaping Bay.
Overall the show was a huge success for all involved. We couldn't have done it without our incredible staff; Johnny, Tiernan, and Cody. Thanks also goes out to US Blanks for toting our gear around year after year. We also want to make a huge shout out for all the support from our customers, it's why we show up each day.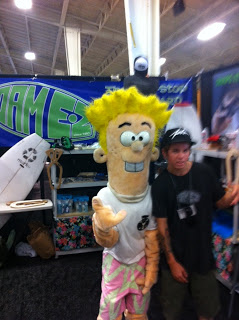 Tiernan and Wilbur Kookmeyer!
See ya next year!